This article, written by Lucy Wilson at the request of the Charity League, appeared on the cover of their June, 2000 "League Journal".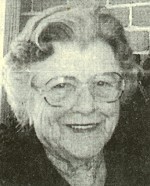 This month we honor the memory of League member and sustainer, Mrs. Dell Carter, from the class of 1944. We are honored to have had such an exceptional individual among our ranks. Mrs. Carter's kindness and generosity have had immeasurable impact on family, friends, and our community who all benefited from her efforts throughout the years.

The following memoir was penned by Mrs. Carter's daughter. It will give you a glimpse of the delightful lady she was.

Adele Dillard Pannill Carter was born in Mayodan, N.C. in 1911 and moved to Martinsville in 1925 with her large family of 6 siblings and parents, Adele and Will Pannill. Her father was getting ready to start a knitting mill with the available female labor force. Dell soon met a young architect from Danville, J. Coates Carter. They married and settled in a "starter home" designed by Coates for his father-in-law. Mr. Pannill gave each of his children small homes on Scuffle Hill and Letcher Court. As the Carter family of seven grew, Coates added on including attaching an adjoining house, the house Dell lived in for 64 years!

Dell became active in clubs and church and being a busy mother. She soon learned every shortcut in town. She told her daughters it was the happiest of times when all seven children were still at home. She joined the Charity League in its early years and particularly liked volunteering for Dr. Newman's children's clinic.

Blessed with a keen sense of humor like her father, a generous heart, and plent of common sense, her life was soon filled with many duties as the family grew. She is often remembered for her endless recall and singing of childhood ditties and nonsense songs when even the simplest occasion would spark her memory. She gained a love of flowers and arranging and making a home from her mother. She loved furniture, and buying it, and turning around and giving it away. Never one to save things, she loved to "throw out." However, after her death, her daughter Lucy Wilson found a treasure in a shoebox - a piece of her 1936 wedding cake!

Dell Carter loved people and had dear friends of every age. They had good visits, and she always said, "Things don't matter - people do." She lived by that saying.

Young in spirit even at age 88, she lived a long and happy life and greatly influenced her seven children and twelve grandchildren. She even got to hold one of her two new great-granddaughters before she went to her reward. Favorites? She said she had no favorites because each one was the favored one.