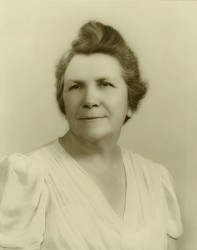 The following is Adele Dillard "Granny" Pannill's obituary, which describes just some of her many accomplishments in life:

One of Martinsville's outstanding civic and social leaders, Mrs. Adele Dillard Pannill, 81, died about 6 pm Thursday in Martinsville General Hospital following a lengthy illness.

Mrs. Pannill was the widow of the late William Letcher Pannill, president of Pannill Knitting Company. He died in 1940. They moved to Martinsville from Reidsville, NC in 1925, the year that Pannill Knitting was established.

She was born Sept. 4, 1987 at Spencer, the daughter of the late Dr. John Redd Dillard and Ann Adele Lee Dillard of Spencer. Her mother was a member of the distinguished Lee family of Virginia, and came from Lunenberg County.

She is survived by five daughters, including Mrs. E. A. Sale of Irvington; Mrs. J. Coates Carter; Mrs. James C. Smith, Mrs. Frank M. Lacy, and Mrs. William F. Franck, Jr., of Martinsville; and Mrs. George Allen Mebane IV, of High Point, NC; and one son, William Gordon Pannill of Martinsville; 20 grandchildren and 10 great-grandchildren.

Mrs. Pannill served on the building committee for the new Forest Hills Presbyterian Church of which she was a charter member; she was a member and past president of Martinsville Garden Club; and a member of the Martinsville Literary Club, the Huguenot Society, Patick Henry Chapter; Daughters of the American Revolution, and the Library Board. She was president of the first Parent-Teacher Association in Martinsville.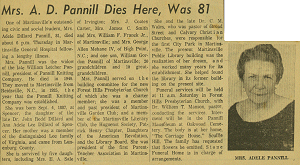 She and the late Dr. C. M. Wales, who was pastor of Broad Street Church and Calvary Christian Churches, were responsible for the first City Park in Martinsville. The present Martinsville Public Library building was the realization of her dream, and she worked many years for its establishment. She helped found the library in its former building on the present site.

Funeral services will be held at 11 a.m. Saturday in Forest Hills Presbyrerian Church, with Dr. William T. Manson, pastor, conducting the services. Interment will be in the Pannill Mausoleum at Oakwood Cemetary. The body is at her home, "The Carriage House," Scuffle Hill. The family has requested that flowers be omitted. Stone Funeral Home is in charge of arrangements.